Learn Japanese Language FAQ
Learn Japanese Language FAQ
This Learn Japanese Language FAQ page is created in order to help answer those frequently asked questions encountered by Japanese learners, especially beginners.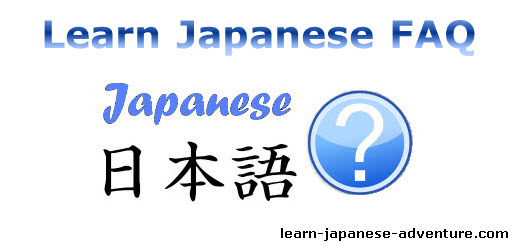 Why I Setup this FAQ Section?
When I was attending my Japanese lessons few years back, I remembered I was always having lots of questions regarding almost everything!
After "digesting" what had been taught in the previous lesson at home, I always prepared a full list of questions for my Japanese teacher in the next lesson.
I think I was the last person to leave the classroom when the lesson ended because I would clear all my doubts with my teacher before I want to leave.
How I wish there is a Learn Japanese language Frequently Asked Questions section that I can refer to during that time. It'll be very helpful for beginners who feel so lost when they are learning this language.
And this thought has triggered me to build this FAQ section where I hope I can clear most of the questions you encountered regarding Japanese.
If you have a question about learning Japanese, you can submit it using the form below. Click here to see all questions and answers submitted by others.
I will reply by posting a detailed answer as quickly as possible. And if I don't have the answer, I will be happy to do some research on the subject.
However in this case it will take a bit longer for me to post an answer.
I will do my very best to reply all questions about learning Japanese within 2 days. But if I am really busy it can take longer time.
If you want to know when I have answered your question, please don't forget to check the notification box and provide your email address when you submit your question.

Reason Why Your Questions are not Answered
As I hope that my answers will be beneficial to visitors having difficulties in their Japanese learning, I would appreciate that you ask only questions related to learning Japanese.
If you want to ask more personal questions like "How to say my name in Japanese?" or "What is the meaning of this anime's title?", I would appreciate if you can ask through this contact form.
As these questions can be replied in one or two sentences, it's difficult for me to create an answer page based on these questions.
Moreover, the answers to these questions might not be beneficial to people who want to learn Japanese. Thank you for your understanding.
Do come back often to this Learn Japanese Language FAQ page as I will update it frequently. There will be many questions and answers posted which you might be interested to know.

Do You Have A Question On Learning Japanese?
If you have a question on learning Japanese language, I'll do my best to answer it for you. Just submit your question using the form below.

If it's important that you get an answer as soon as possible, please set your notification preferences so that you'll receive an email when I've answered your question.
Learn Japanese FAQ Submitted by Others
Click below to see contributions from other visitors to this Learn Japanese Language FAQ page...

Buy me a coffee
Like This Page?