Sydney, NSW, Australia - Sydney Language Solutions
by Na Pham
(Sydney, NSW, Australia)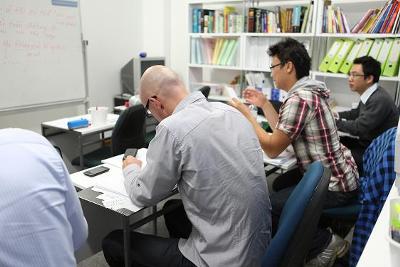 Sydney Language Solutions
Why Choose Sydney Language Solutions?


* We specialize in many Asian languages.
* We provide a complete suite of Asian language solutions including on-site group training and one-to-one training. We also offer translation, editing, website localisation and cultural briefings to corporate and government clients.
* We offer many different Asian language programs.
* We are presently building our online library for Japanese, Vietnamese and Mandarin language resources in Sydney.
* Our school is based in Sydney and you can learn two languages at the same time per week if you are a bi-lingual or tri-lingual Australia-born person.
* Our teachers give on-site support even beyond regular class time. Students are free to access the library and its learning resources.
* Students can also discuss their lessons on our dedicated SLS blogs.
* We provide 5-hour language and culture workshops for travellers to China, Vietnam, Japan and Indonesia. These workshops are for those who cannot attend the standard class but still want to have a general idea about the language and culture of that particular country.
* We are also a member of ATESOL, AUSIT, ATA, ACTA and Japan Foundation.
What Japanese Language Level We Offer?
* From Beginner 1 to Intermediate 1
* Conversation
* High School Certificate Preparation Course
* Japanese Language Proficiency Test
OPENING HOURS:
Weekday 10am - 7pm
Saturday 11m - 2pm
CLASS SIZE:
6-8 Students
TEACHER PROFILE:
1. Chie Shattel
Qualifications:
Ms Chie Shattel gained her BAs in Business English & Teaching English as a 2nd Language in Japan. She started to teach before her graduation & had continued to do so for 3 years. She is also a qualified teacher in calligraphy, tea ceremony, ikebana, kimono dressing & traditional Japanese music (Kouta).
Work Experience:
She has been teaching Japanese in Australia for 15 years, from year 2 to professionals who need business & travel specific language, including airline staffs.
She had worked
for 15 years before she gained her Certificate as a Local & International Tour Guide. She has also coordinated the placement of Japanese language teachers into the Australian schools for 4 years.
Her experience also include teaching in Japanese schools, Community Colleges & TAFE. She return to Japan twice yearly so that she is able to keep herself updated with the latest social & cultural events as well as the new development of the Japanese language.
2. Toshiko Jackson
Qualifications:
Ms Toshiko Jackson has a M.A. in Asian Studies that includes Advanced Studies for teaching Japanese as a Foreign Language, Graduate Diploma in Applied Linguistics, Graduate Diploma in Japanese Applied Linguistics, Diploma in Education and BA in Arts. (All postgraduate degrees are from Monash University.)
She has a publication in "Australia Language Matters", ANU, on teaching methods in Japanese. Her M.A. thesis (32,000 words) was on Japanese corporate management and its car manufacturers' overseas activities. It earned H.D. at Monash University.
Work Experience:
Ms Toshiko Jackson migrated from Japan to Australia 31 years ago and has been teaching Japanese language and culture in Australia for 26 years. She has taught in schools, coaching colleges, TAFEs, universities and corporate courses in Sydney and Melbourne in part time, full time and casual roles.
Ms Toshiko has also taught all Stages of HSC, Business Japanese for 4 Japanese multi-nationals' training courses, the University of Sydney and RMIT.
Besides, she also taught students for preparation of the Japanese Language Proficiency Tests in all levels. She was the Department Coordinator of L.O.T.E. and Japanese Course Coordinator for the Certificate IV at Language Centre, Holmesglen Institute of TAFE, Melbourne for 7 years until the end of 2000.
Additionally she was an interpreter and had worked as a translator in Melbourne for several years.
Contact Info
Address: Suite 202, 332 Pitt St, Sydney NSW 2000
Website:
www.sydneylanguagesolutions.com.au
Tel: 02 9283 9892
Mobile: 0433 506 969