Fukuoka City, Fukuoka, Japan - Genki Japanese and Culture School
by Evan Kirby
(Fukuoka, Japan)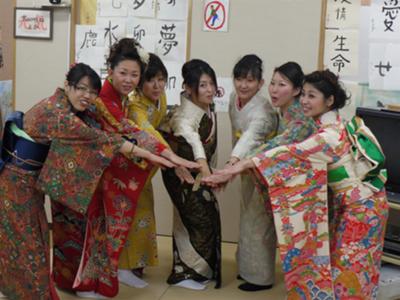 Genki Japanese teachers
Genki Japanese and Culture School (GenkiJACS) is an internationally acclaimed and accredited communicational Japanese language school that offers short-term study abroad courses, learning the Japanese language and culture in a relaxed and friendly environment.


We are located in the heart of Fukuoka City, the biggest city in South Japan, more than 1000 km from the disaster zone in north-eastern Japan.
GenkiJACS was nominated by popular vote as one of the world's top language schools every year from 2009 to 2011.
We are one of only two Japanese language schools in the world that are accredited by IALC, the International Association of Language Centres, and the only one that focuses on Western students.
We offer courses in a range of areas, including conversational Japanese, pop culture, Japanese culture, and study for exams, all with an emphasis on practical work, inside and outside of the classroom.
For students coming from overseas to study abroad at our language school, we can prepare a range of accommodation options including homestays and dorms, and arrange various activities for the duration of your stay. We're here to make learning Japanese worthwhile and enjoyable - that's why students return to GenkiJACS again and again!
GenkiJACS
is not just your normal Japanese school.
Here are some of the differences:
Small class size
Classes are limited to a maximum of 7 students, and usually have around 3, giving you plenty of chance to practice with the teacher.
Unique Courses
You won't find our "Japanese Plus Pop Culture" and "Japanese Plus Traditional Culture" courses at other schools!
All ability levels accepted
Whether you are a complete beginner, an expert, or somewhere in between, we have a class for you. Multiple segments of each class means you're not stuck in a group with people much higher or
lower than you.
Proven Quality
One of only two Japanese schools accredited by the International Association of Language Centres, and voted every year from 2009 to 2011 as one of the world's top language schools! Students return again and again.
Only licensed teachers
Unlike some other Japanese schools, all of GenkiJACS' teachers are graduates of a 420-hour Japanese teacher training course at a recognized study institution. We hire only the best, and perform regular training. Students agree: you won't find better teachers!
Flexible schedules
Courses start every Monday year-round, and you can study for as long as you want, from 2 weeks to a year or more! We schedule classes to fit your needs, instead of forcing you to learn when we want you to learn!
Great location
Fukuoka City is the perfect place to study Japanese - one of Japan's biggest cities, with some of Japan's best weather and most beautiful beaches. A great combination!
Online Courses
If you are hesitant about taking the step to travel abroad, why not try our new online courses. Join our group lessons offered at several different times in order for you to be able to study wherever in the world you are. If you prefer a more personal touch, try our online private lessons instead!
Standard Japanese Study Course Overview
Start dates:
Every Monday throughout the year, depending on student level
Length of course:
From 2 weeks to as long as you want
Basic Schedule:
Four 50-minute classes per day, usually scheduled from 9:30am to 2:30pm. (Additional classes available.)
Requirements:
All levels of students are accepted, but beginners should be able to read hiragana.
Accommodation:
Homestay, shared apartment, dormitory or private apartment
Cost:
Depends on length of study - mail us for an estimate!
Email: info@genkijacs.com
Phone: +81-92-716-8673
Website:
www.genkijacs.com